More than half of homeowners said their priority for 2022 was to create indoor-outdoor living spaces. These days, Americans wish to spend their downtime in their own backyards rather than going out.
Thus, this means many want to have an outdoor dining area, kitchen, living room, or some combination of these for maximum relaxation and enjoyment.
If you want to transform your outdoor space into the ultimate paradise, you've come to the right place. Continue reading for seven fantastic backyard design ideas you'll absolutely love and that we can help you build!
1. Build a Gazebo
Consider building a gazebo if you have room in your backyard design budget. Gazebos are low maintenance and easy to look after. Plus, you can use them year-round for any number of activities, all while protecting you from the weather elements, such as:
Maybe you want to invite friends and family over for a meal. A gazebo can easily hold a table for 6-8 people. You can build a larger gazebo to accommodate more people if you desire. Situate your outdoor kitchen nearby so you'll never need to run back into the house while you cook.
On the other hand, perhaps you want to have an outdoor workspace. A gazebo can act as an open-air shed. If you really want to, you can hook up an electrical outlet. This way, you can connect power tools. Or if you work on the computer a lot, you can have a nice area to relax and work without the distractions indoors.
Really, the possibilities are endless.
Not to mention, gazebos are stunning to look at. You can significantly improve your backyard aesthetics with one. Nothing says paradise like a gazebo that feels like another world.
Further, a gazebo will add value to your home. This is especially true if you don't have any other features in your yard.
2. Add a Fire Pit or Fireplace
No backyard is complete without a patio fire pit. Fire pits are now one of the most sought-after outdoor features by homeowners.
They provide joy year-round and extra warmth during the colder months. You can host and entertain around the fire pit or create a romantic setting with your significant other.
If you have flexibility in your budget, consider adding a fireplace instead. A fireplace makes the space feel more homey and luxurious. It's perfect for feeling like you're in paradise no matter the season.
An outdoor fireplace is becoming a hot-selling feature for homebuyers these days, too.
3. Include Dramatic Water Features
While many homeowners add a swimming pool and spa to their outdoor living space, there are many other water features you can also choose from.
For example, you could add a stream or babbling brook. The water sounds are soothing and significantly help in relaxation. In fact, nature sounds have been scientifically proven to improve your health!
However, the possibilities don't stop there. You can also consider the following:
A bird bath
Fountain
Koi pond
Wading pool
For those with kids, you can add a waterslide to your pool, too.
Nothing says paradise like dramatic water features situated around your outdoor living space.
4. Don't Forget About Seating
Having a variety of seating is a must for your outdoor living space. For your pool area, you can include sun and lounge chairs. Near your fireplace, you can include a plush sofa and extra-large armchairs.
Of course, don't forget to include a dining table with chairs to accommodate friends and family when you entertain for meals.
Other seating options you can add are:
Bar stools
Bean bags
Benches
Hammocks
Swings
Just remember that if you want your space to be multi-functional, you should have various seating options for different purposes.
5. Invest in Your Landscaping
Add trees, plants, and grass to your backyard to create a lush, tropical paradise. The more greenery you have, the more your backyard will feel like a Caribbean oasis. Plus, different types of plants can help create shade and privacy.
When you incorporate plants with different colors, shapes, heights, and textures, you create the allure that nature provides.
For an exotic look, choose bright flowers, such as:
Bougainvillea
Birds of Paradise
Red Ginger
Orchids
You may also choose fragrant flowers for a different "scent"-ual experience.
For those that love gardening, build your own garden! There's nothing better than eating produce you grew yourself. Some fruits and vegetables that thrive in the Houston climate include:
Beets
Cabbage
Carrots
Citrus
Lettuce
Tomatoes
Watermelon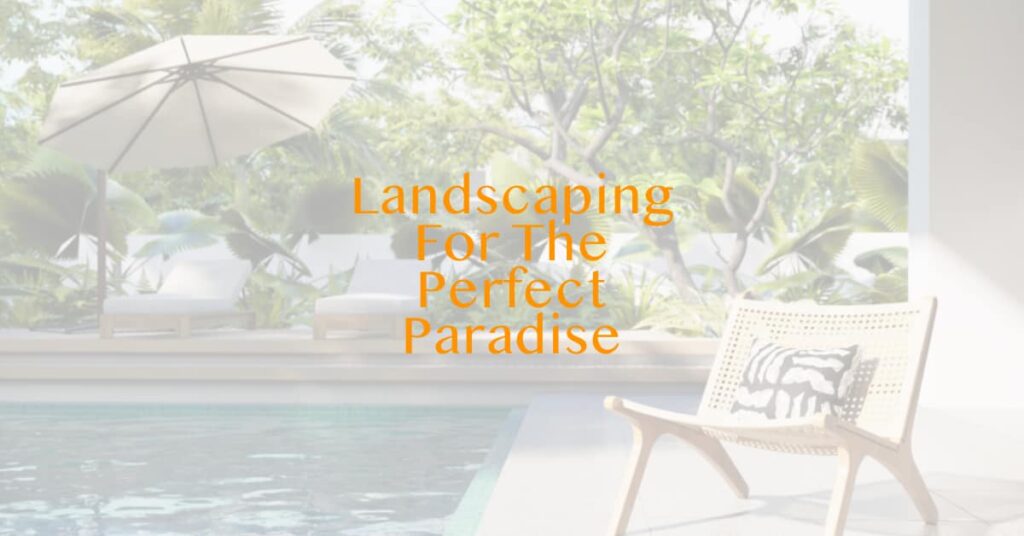 6. Add Backyard Stone Features
Stone always creates a feeling of paradise regarding designs for patios. Whether you choose a stone path, planters, or walls, they will add charm to your space.
These days, adding stone is simple and affordable. Plus, there are many options to choose from, including:
Bluestone
Coral stone
Flagstone
Granite
Limestone
Marble
Quartzite
Slate
Travertine
7. Think About Sports and Gaming
Why not add a court or gaming area to your backyard for sports lovers? Depending on your budget and space size, you can build a tennis or basketball court if you wish. X Games fans can even install a skate ramp!
Additionally, you can add a gaming area with a pool table, foosball, or any other games you enjoy. You may also choose to install an in-ground trampoline, which is fun for all ages.
Whatever sports or games you like, you can probably include them in your backyard space.
Transform Your Outdoor Living Spaces
While we've only mentioned seven ways to transform your outdoor living spaces into a paradise, there are thousands of possibilities to consider. Fortunately, an outdoor living contractor can guide you on how to create your own personal paradise.
For the best outdoor living contractor in the Houston area, look no further than Pristine Backyard Oasis. Contact Pristine Backyard Oasis today for a free consultation to learn more about how our team can turn your backyard into a backyard paradise and something you've only ever dreamed of.