Outdoor kitchens top the list of hot home trends designers and architects call for in 2022. And according to the experts at Bob Vila, they also offer a fantastic return on investment, especially if you live in a warm climate.
Are you ready to upgrade your private outdoor oasis? Looking for modern outdoor kitchen ideas and design inspiration?
If so, you've come to the right place. Read on for fantastic outdoor kitchen designs guaranteed to take your backyard to an entirely new level.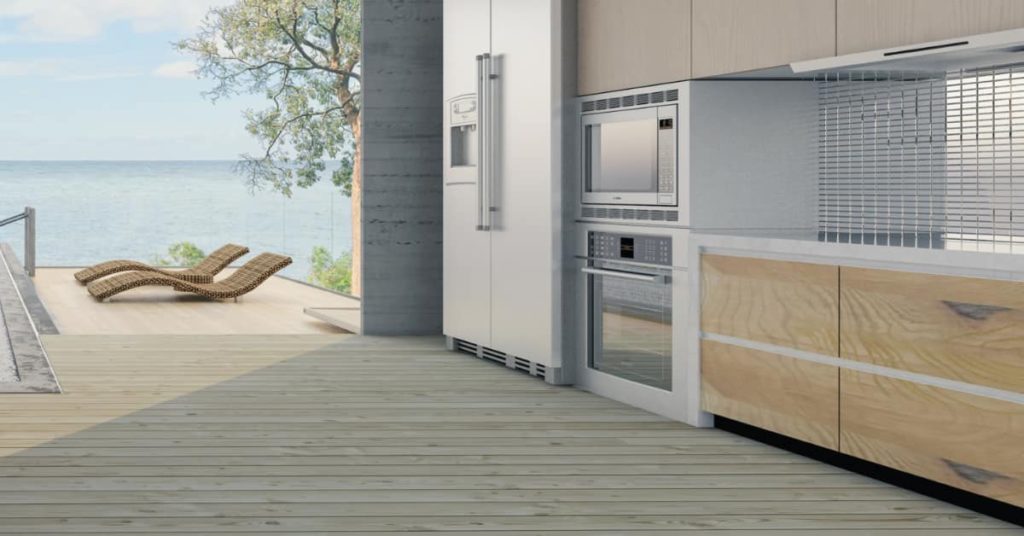 Wood Fired
Nowadays, outdoor kitchens call for more than just basic barbecues and outdoor cooktops. Homeowners are adding fantastic features ranging from smokers to pizza ovens and more. Though the idea sounds rustic, the design can be as modern as you would like. Skip the natural earth tone stone and have it built with tile and or steel.
In addition, adding this modern look to these features won't just elevate your backyard get-togethers. It will also allow you to prepare restaurant-quality meals because they are now built with state-of-the-art outdoor cooking technologies. And, depending on what you're preparing and your energy source, it might save you money on energy bills, too!
Destination Inspiration
When it comes to outdoor kitchen ideas, there's no reason to keep them simple and boring.
For your design, consider channeling an exotic destination like Bali, Tuscany, or Las Vegas. This could include features like tropical plants, classic European stonework, or sleek, modern furnishings.
While you're at it, why not make some changes to the rest of your yard to take the theme even further? Incorporate a modern-style backyard pool, garden, or deck.
Bar Style
Do you love entertaining? If so, consider an outdoor kitchen design with a bar where you and your guests can enjoy your favorite beer, wine and cocktails.
Incorporate features like outdoor speakers and movie screens, and you are all set. No problem inviting them to the next gathering as they will surely come again.
If you want to take your outdoor kitchen cost a bit higher, add a swim-up bar to your newly designed modern inground swimming pool. What could be more fun and inspirational?
Kitchen Island
Have you ever noticed that guests love to gather in the kitchen?
In days past, it was expected that people would spend time together in a more formal space, like a dining room or den. But, today's guests prefer to hang out where the action is, close to their hosts.
Building a large kitchen island with plenty of seating will keep friends and family where they want to be. Keep it spacious for that open, airy, modern, stylish look.
Lounge Around
In addition to food prep and serving areas, you'll want to add some comfortable seating. This could include cushions, couches, side tables, coffee tables and other components where people can relax and unwind.
This outdoor lounge section is also a perfect place to add extra details like fire features, ideal for entertaining after dark. A square or rectangular fire pit keeps in line with the modern straight, clean-cut lines style.
Want to upgrade the idea of an outdoor lounge? As mentioned, consider adding a projector screen or other outdoor entertainment area!
But remember, it's about modern, so ensure the outdoor seating stays with your other modern decor while maintaining its function and comfort.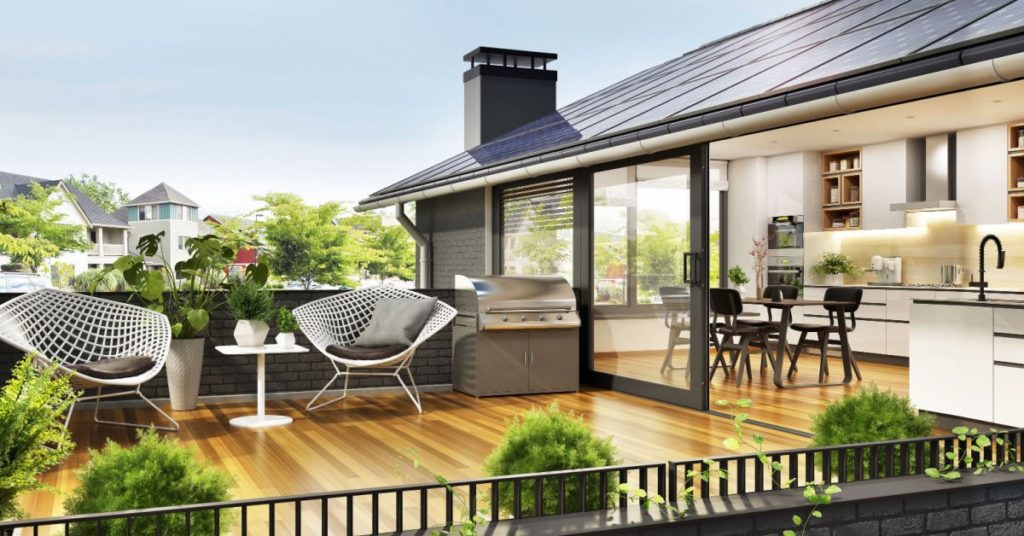 Split Level
Do you remember conversation pits? These sunken spaces just for conversation are back in style and easy to create with a modern look.
If the idea of a multilevel outdoor area appeals to you, but you aren't convinced that a conversation pit is right for your space, you could instead elevate your kitchen.
This makes it the focal point of your outdoor living area and adds dimension, which can help a small yard feel larger.
Indoor Outdoor
Utilizing a covered patio will make any outdoor kitchen more functional. You'll have the option to cook outdoors even when the weather isn't at its best. And a place to beat the heat on a super sunny day.
Covering your kitchen will also help appliances last longer and reduce how frequently you need to clean your new outdoor kitchen.
Feel like taking the indoor-outdoor approach to its limit? Also, why not add screens to keep the bugs out?
While this article is aimed at speaking about "modern outdoor kitchen design ideas," construct a patio cover that seamlessly blends with your modern outdoor kitchen. Modern patio looks tend to be minimalistic so consider concrete flooring with a patio cover made with metal.
Lush Landscaping
No matter what design you opt for, modern or other, adding a bit of greenery is guaranteed to improve the ambiance of your outdoor kitchen.
Like the rest of your design concept, you'll want to stay on theme. So, consider what the rest of the space will look like before selecting plants.
Whether you choose full tropical foliage, clean and stylish cactus and succulents, or easy-to-care-for ornamentals in planters, you'll surely love the look. Adding plants can also help purify the air, giving your outdoor kitchen a fresh feeling.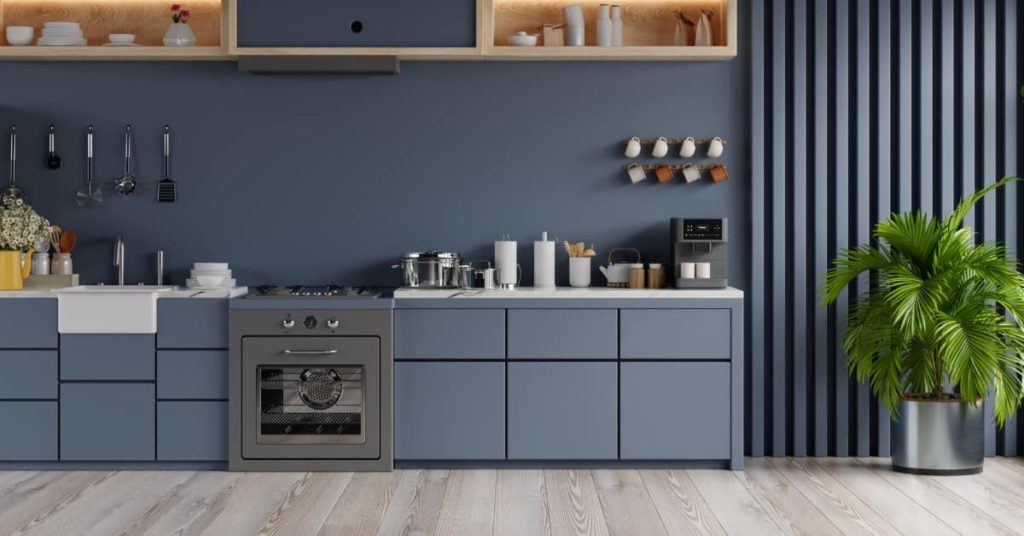 More Modern Outdoor Kitchen Ideas
If you want a modern look for your outdoor kitchen, you'll want to consider the materials you use and how you decorate.
Try to stick with monochromatic color schemes and sleek finishes like granite, varnished wood, poured concrete, and glass tile – rather than rustic stonework.
Apply this same logic to selecting appliances, light fixtures, and more. Stainless steel is perfect for achieving the desired modern look.
Outdoor Kitchen Designs Made Easy
Did some of these modern outdoor kitchen ideas catch your eye? If so, you're ready to start working with a team of experts to help turn the backyard of your dreams into a reality.
Contact the pros at Pristine Outdoor Oasis or call (832) 679-1032 today. We offer free estimates and fully designed, custom-created outdoor kitchens, custom inground swimming pools and spas, patios and decks, fire features, and more.
Let the outdoor kitchen designers and builders at Pristine Backyard Oasis bring one of these incredible outdoor kitchen designs to life in your backyard!