Houston Backyard Design Ideas For Inspiration
If you have been thinking about ways to renovate your backyard space, you are not alone! The interest in outdoor living has been on the rise for the last few years and studies show it continues to increase.
New trends range from adding pools to outdoor kitchens to beautiful fire features that look like they belong in a luxury resort.
Creating an oasis in your backyard is a wonderful way to escape the demands of life without leaving the safety and comfort of your home.
If you have been looking for Houston backyard design ideas read on for inspiration.
Houston Backyard Design Ideas
When you think about Texas backyard design ideas, what is the first thing that comes to mind? Cooking!
When you are ready to add an outdoor kitchen to improve your backyard, you want nothing but the best. You want a space where you can entertain friends and relax in the shade and an outdoor space that will add value to your home.
Thankfully, today's outdoor cooking appliances are made to last, and the design options available are limitless. So be creative and put together an outdoor kitchen you can enjoy for decades to come.
When you hire the best backyard design company, there are endless designs for custom outdoor kitchens. They can be built in an L-shape, U-shape, square, circle, half-circle or plain straight. It can be tucked away in a corner or be the focal point of the outdoor patio.
And as for the materials to construct it, you can keep it simple or mix them up. For example, a concrete floor with a mix of brick to the walls, a patio cover with wood beams, a vaulted skylight, add stone to the counters, granite countertops and stainless steel appliances. Add a fire table and your are all set!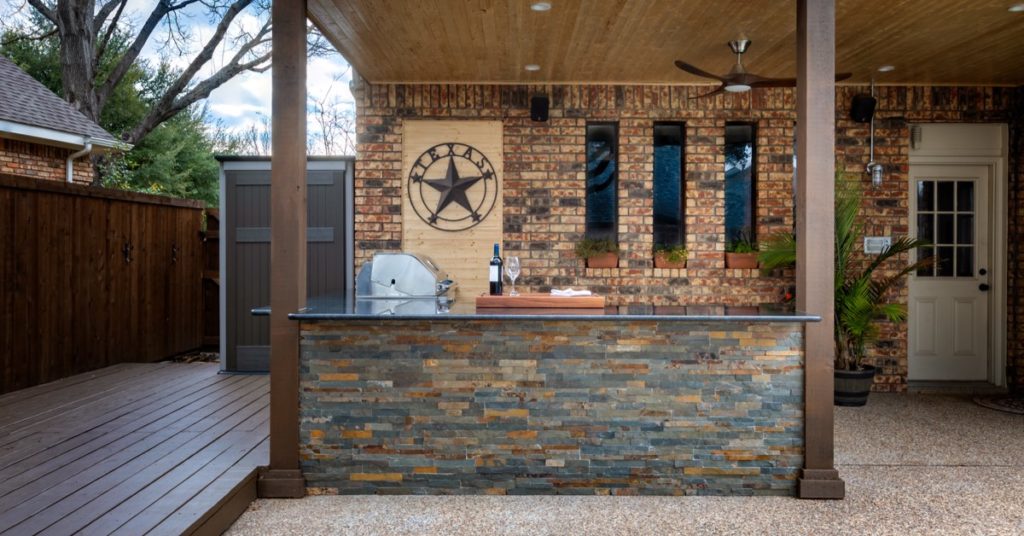 Creating an Oasis
One way to escape the hustle and bustle of daily life and the Texas heat is to have a pool installed in your backyard.
Many backyard design companies do things like patios and decks, but not all do pool design and installation. So be sure when you choose your contractor that you find someone with expert artistry in all types of backyard design and layouts that can help you from start to finish and beyond.
Custom inground swimming pools can be constructed in all shapes and sizes to accommodate each individual's needs and lifestyle. There are long rectangular pools for swimming laps, large pools with waterfalls and slides for the kids, and small pools for small backyards and those who want to unwind and relax in a spa-like pool.
Fun Trends
As we think about backyard design ideas, we also want to consider some of the trends that are hitting the market. There are several types of fire features that allow you to dress up and modernize the well-loved fire pit.
Today's fire features can be custom built to fit your aesthetic and can take the shape of a fireplace, a fire table, or a beautifully designed fire pit.
Another way to sprinkle fun into your backyard renovations is fun fabrics and boho chic furniture to decorate your new outdoor space.
Have fun finding trends and Texas backyard ideas you love when furnishing your outdoor oasis!
Are You Ready to Design Your Outdoor Oasis?
If you have read through these Houston backyard design ideas and found designs you love, now is the time to begin.
Whether you want to add a pool so that you can lounge outside on steamy, sunny days or want to build an outdoor kitchen to entertain friends and family, you can design the oasis that is right for you.
Outdoor living spaces are a growing trend for a good reason. Take advantage of your outdoor living area by transforming it into a space you can relax and enjoy.
Contact Pristine Backyard Oases today for a free consultation for unique backyard designs in Houston Texas and the surrounding areas.