Houston Outdoor Kitchen Contractor That Delivers Exceptional Results
An astounding 90% of Americans say that outdoor living spaces are more important now than ever. When asked what they're doing more outside, 49% said grilling, and 27% said dining.
No wonder outdoor kitchens have become such a hot commodity for homeowners!
Yet, to get the best outdoor kitchen, you need to find a stellar Houston outdoor kitchen contractor. That's what you'll find here in our outdoor kitchen guide.
Read on to learn how Pristine Backyard Oasis, an exceptional Houston Outdoor Kitchen Contractor, can help you build the best outdoor kitchen!
Layout
When designing your outdoor kitchen, you must first decide which layout you want. Outdoor kitchens have four main zones. They are:
Preparation
Cook
Plate and serve
Entertain
When choosing your layout for maximum convenience, functionality, and safety, it's essential to keep these in mind.
The are four main layouts to choose from:
Island
L-shape
U-Shape
Galley
Classic
The classic outdoor kitchen island is perfect for small spaces or those on a budget. It commonly has a central cooking area and preparation stations on both sides. You can use the open space to add stand-alone features like a dining area or fire pit.
L-Shape
The L-shape is a popular layout for homeowners. You can place one side against the house for prepping and cooking, then use the third side as your dining or seating area.
You can also place the L-shape in the corner to open up the seating area more, especially if you want to include a large fire pit or other amenities. Of course, you can also use the L-shape as a stand-alone unit in the center of your outdoor space. This layout works for almost any backyard because of its versatility.
U-Shape
To take it to the next level, you can choose the U-shape. The U-shape gives you more preparation and cooking space, boosting its convenience and functionality. In addition, there's space for more features and appliances. The U-shape is an excellent layout for more of an indoor kitchen feel in your backyard.
Galley
The last layout is the galley. This layout is two linear islands parallel to each other. The open space in the middle allows for an efficient workflow like that of a professional kitchen. You can have both sides be preparation and cooking stations or have one side be for entertainment and socializing.
The galley layout is ideal for larger spaces and those who love to entertain.
Design
When it comes to design, first think about the overall aesthetic you want. Do you desire clean lines and modern finishes? What about a rustic or woodsy feel? Many homeowners love a beachy vibe.
Once you have a theme in mind, you can start exploring the details, such as the materials you want. For instance, slate or marble are sleek and modern, while natural wood is great for a rustic look.
If you're having difficulty nailing down the layout and design that will work best for your space and aesthetic, our design team has incredible outdoor kitchen tips to help you. They'll ensure everything in your backyard seamlessly flows, from the deck or patio to the swimming pool.
Appliances
The next thing to consider is the appliances. By now, you'll have a general idea of which appliances you want, but you can start choosing specific brands and models.
First, consider the basics. This includes your grill and/or range (oven-stovetop combo). You'll need space for both if you want to cook various meals in your outdoor kitchen. Consider the size, and don't forget that gas grills and ranges require a connection to a gas line.
Also, think about adding a sink and refrigerator. Although you won't have space for them on a stand-alone island, they are great additions to the other layouts. Plus, they make your outdoor kitchen much more functional.
If you have the cabinet space, you can store additional kitchen appliances such as:
Air or deep fryer
Blender
Microwave
Mixer
Slow cooker
Toaster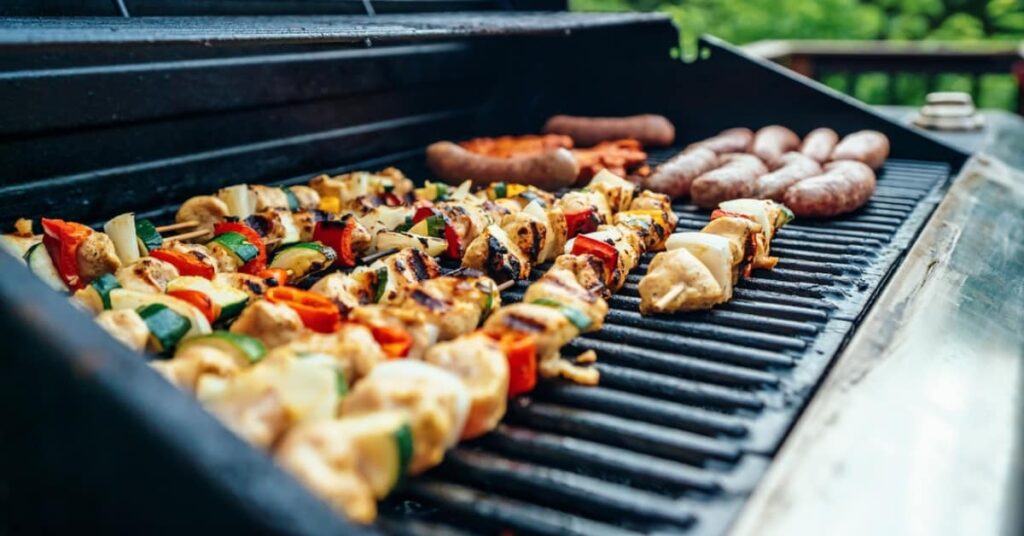 By storing your appliances outside, you won't need to haul them back and forth from the indoor kitchen. This makes preparation and clean-up faster and easier. If you can, add a dishwasher too! This way, you won't have to clean dirty dishes in your clean indoor kitchen.
To take your outdoor kitchen to the next level, consider adding a wood-fired pizza oven, ice maker, wine cooler, or beer dispenser. You can always throw a fantastic party with these in your outdoor kitchen. Meat lovers may want to have a smoker or rotisserie grill.
Whatever it is, if you've seen it in a kitchen before, we can add it to your outdoor kitchen!
Features and Furniture
Finally, it's time to consider the features you want in your outdoor kitchen. With so many outdoor kitchen ideas, it can be challenging to pinpoint what you want (and need) for your space.
Something you may not have already considered is your outdoor kitchen cabinets. Having storage space outside will create more functionality. With an island layout, you will have less room to work with. But you can add plenty of cabinet space for those with U-shaped or galley layouts.
One popular feature many homeowners add is a fire pit or fireplace, accompanied by a seating area. Because fire pits are stand-alone, they are more versatile. Additionally, you can add a variety of seating options.
Speaking of seating, do you want a formal dining area, a relaxing area with plush sofas, or a simple picnic table vibe? Based on the aesthetic you're going for, you can begin to search for furniture that will match.
For example, wood or rattan furniture goes with the rustic and outdoorsy feel.
Work With the Best Houston Outdoor Kitchen Contractor
It's no doubt that Pristine Backyard Oasis is your go-to Houston outdoor kitchen contractor to bring every aspect of your dream outdoor kitchen to life.
Our pool and outdoor kitchen contractors have a 100% customer satisfaction rate. They'll help you through every step of building your outdoor kitchen.
So what are you waiting for? Contact Pristine Backyard Oasis today for a free quote!