Tired of Searching for Outdoor Living Contractors Near Me in Houston, TX? STOP and look no further than here.
Did you know both Dallas and Houston, Texas, are on the list of U.S. cities with the most residential swimming pools? About 14% of Dallas homes and nearly 10% of Houston homes boast this luxury.
While a pool is an excellent addition to any Texas home, it's not the only feature you can include in your backyard to spruce up the space. In fact, there are dozens of ways you can design your outdoor space to fit any lifestyle!
So if you've wanted to renovate your yard, stop searching for "outdoor living contractors near me" and continue reading. You'll learn why Pristine Backyard Oasis has the best outdoor living contractors in the Houston, TX area.
What Can Pristine Backyard Oasis Do for You?
Regardless of how you want to change your outdoor living setup, our team can help.
For instance, our pool builders are there if you want a new pool. They can aid you in creating a stunning swimming pool design unique to your yard. Or, if you already have something in mind, they will make it come alive.
There are several popular pool styles to choose from, including beach entry, free-form, geometric, and infinity edge. The space size doesn't matter; we can customize a pool to fit. There is no design too challenging for us.
On the other hand, maybe you're considering installing a new deck or patio. Our team will guide you through every step of the process, including getting the necessary building permits.
We have all the perfect fire features for your new deck too. If you want to splurge, you can consider a fire table, the hottest new trend. Why not include an outdoor kitchen in your space as well? It's the perfect way to bring everyone together for a summer pool party or football watch party in the fall.
For a genuinely useable space all year round, you can choose one of our patio covers or custom design your own! Rain or shine, you'll be able to enjoy all the features of your outdoor space with a cover.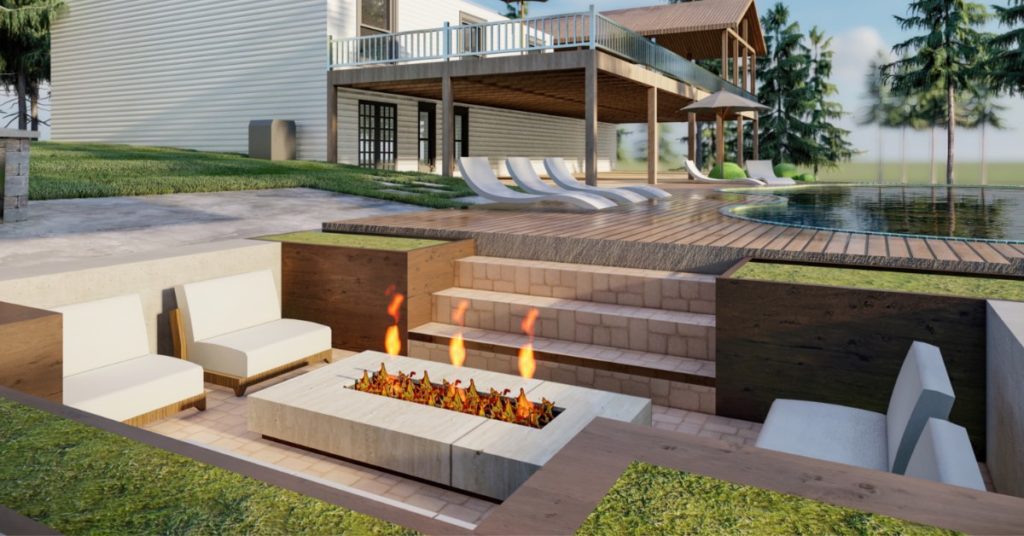 The Best Outdoor Living Contractors Near Me
While we can help you bring all your outdoor living space dreams to life, we offer more than just high-quality work and unique patio design ideas.
Our customer service is unmatched compared to other pool, deck, and patio contractors in the Houston area. Our mission is to provide superior professional customer service from conception to completion. We'll work with you during the entire process of your project to ensure your vision comes to life.
Our team also includes plumbers and technicians so we can accomplish tasks quicker and achieve total customer satisfaction on every project.
Most importantly, our sales representatives will help you stick to your pool or patio project budget. We know how important it is to stay within what you can afford. Therefore, we work diligently to give you a unique design and the best features that fit within your budget.
Ready for an Outdoor Living Space Makeover?
There's never been a better time to work with Pristine Backyard Oasis to make all your outdoor living space dreams come true. When we say anything is possible, we mean it!
So stop searching for "outdoor living contractors near me" and give us a call now. We will assist you with your project at any time of the day.
So, what are you waiting for?
Feel free to view our dropdown menu with our services, portfolio and blog in our top website navigation to see more information regarding Pristine Backyard Oasis, your outdoor living contractors providing backyard services in and around Houston, Texas.