Imagine lounging outside in the warm sun, sipping a cool beverage, and listening to the wind blow through your hair while sitting in your Sleepy Hollow, TX backyard. Sounds relaxing, doesn't it?
But what if you don't have an enjoyable outdoor living space or landscape design where you can alleviate all your stress and worries?
Enter our team at Pristine Backyard Oasis. We can help create a fantastic outdoor living design you'll want to spend all your time in. Curious to know more?
Continue reading.
Our Sleepy Hollow, Texas, Outdoor Living Contractors
Pristine Backyard Oasis has a reputation in Houston, Sleepy Hollow and surrounding areas for creating exceptional outdoor living spaces. We consistently set ourselves apart from the competition by offering the following:
Amazing customer service
High-quality products and labor
Unique designs
We give the same level of attention, care, and detail to each project we handle because our goal is always to achieve 100% complete customer satisfaction. With many repeat customers, our passion for being the best outdoor living contractors in the Houston, Texas area is paying off.
Our skilled team of builders, designers, and technicians can bring any design idea you have for your Sleepy Hollow, TX, outdoor space to life. There is no project we cannot manage. However, our most popular services include the following:
So if you're looking to install a new inground swimming pool, we can do that. But if you want to transform your backyard by adding several features, we can do that, too!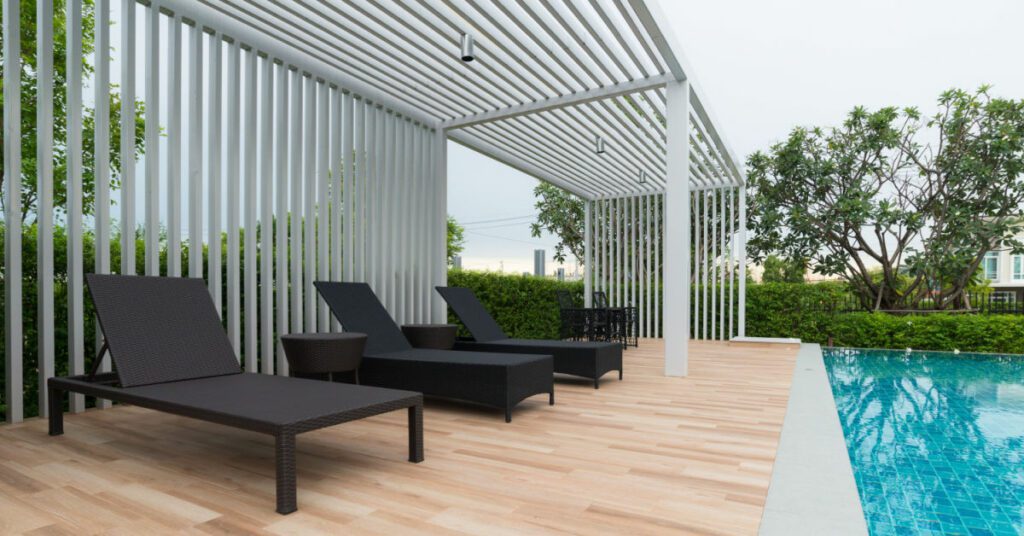 Ideas for Custom Outdoor Living Spaces
When it comes to creating the outdoor design you want for your space, it can feel overwhelming. A simple Google search yields thousands upon thousands of results for backyard design ideas. This plethora of options can make the process feel chaotic.
We want the design process for you to be smooth sailing and stress-free. So, we've compiled some tips to help you get to the bottom of your ideal backyard design.
1. Decide Which Features You Want
Before you think about any design aspects, think about the basics. Which features are you looking to add to your space? A swimming pool? An outdoor kitchen? Both? Something else?
Let's say you've settled on a swimming pool and patio. Now you can start imagining where you want them placed in your space and how big you want them to be. For example, if you like to swim every morning as your daily workout, you may want a bigger pool and a smaller patio. But, if you love to host parties, you may do better with a larger patio space.
At this point, don't worry about the specifics. Our designers will help you create the perfect functional layout that fits your needs.
They will also provide suggestions on how to improve the space. For instance, do you want a patio cover, too? What about a nice fire pit on your patio for cool nights? We'll cover all the details to ensure you don't miss something you may want.
2. Pick an Aesthetic
After you know the prominent features you want to add to your backyard, you can start thinking about the type of design. Think about the big picture. What overall aesthetic or vibe do you want? Some typical aesthetics include:
Bohemian
Farmhouse
Industrial
Luxurious
Minimalistic or modern
Rustic
Tropical or coastal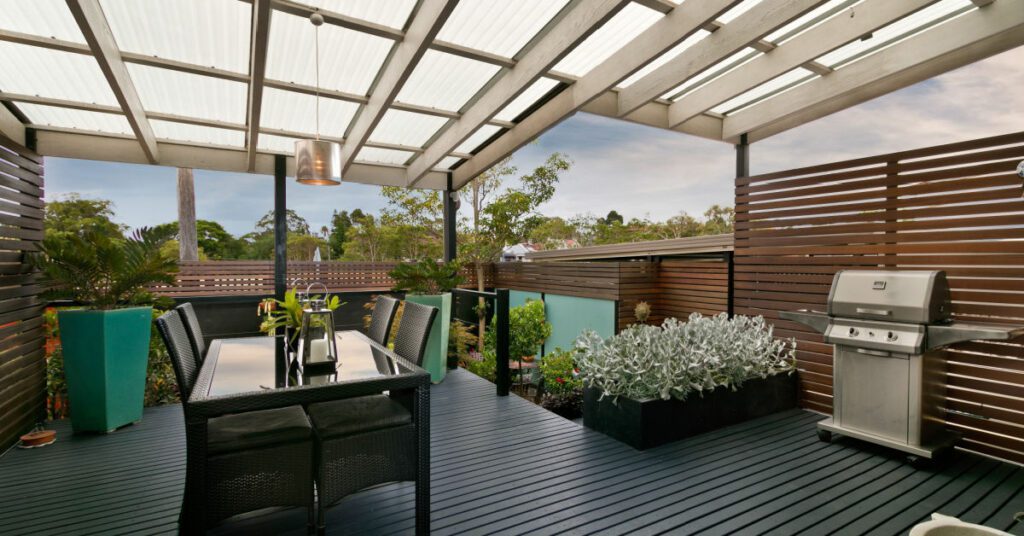 If you're a young couple with kids, you'll probably want something fun, like a coastal or tropical vibe. To achieve this aesthetic, you can have a free-flowing pool with rock features, a waterfall, and a slide. Then, add some tropical plants and a fire pit; your backyard will feel like a tropical oasis.
Forget jet-setting to Mexico or the Caribbean; now, you can host your own tropical staycations!
With kids running around, choosing non-slip, water-resistant materials for the patio, like flagstone or tumbled limestone, is essential. Yet, we can add a slip-resistant layer for extra safety if you want something like travertine or concrete.
On the other hand, if you and your partner are middle-aged and want to host dinner parties with your friends, you may consider a more modern or luxurious design. For example, you could include a spa with your pool for relaxing daytime gatherings and have a large outdoor kitchen for festive feasts.
Granite, marble, and slate all feel expensive and look sleek. For clean lines and finishes, they will make your space look like a million dollars. Further, we can create an outdoor kitchen that's just as functional as your indoor kitchen with appliances such as:
Barbeque grill
Burners
Pizza oven
Refrigerator
Smoker
Warming drawer
We can also custom-build a bar equipped with an ice maker, wine cellar, and beer tap! There's nothing in your indoor kitchen that we can't bring outdoors with some innovation.
3. Consider the Details
It's only after you've chosen your aesthetic that you can begin to work out the more minor design details, such as:
Decorations
Furniture
Lighting
If you've chosen a rustic look, our designers can help you find furniture that matches the aesthetic. This includes using subdued hues and natural materials like wood, stone, and clay. The furnishings should be comfortable and feel homey.
For a beachy vibe, you may opt for plush white furniture with pops of color, such as bright pink and blue throw pills. Ample lighting will help keep the area brightly lit during the evening for pool parties.
Conversely, dim lighting is great for hosting intimate late-night dinners or gatherings for adults.
Again, our designers will help you choose every detail, making your space perfect. If you're not happy with anything, we can always change it!
Customize Your Sleepy Hollow, TX Outdoor Living Design
When it comes to your outdoor living design, when we say anything is possible, we mean it! From swimming pools and outdoor kitchens to patios and fire features, we'll do it all for you.
So before searching "outdoor living contractors near me," pick up the phone and call us at Pristine Backyard Oasis or use our online contact form to get in touch. You can schedule a free consultation with our team to discuss the scope of your project. We will be happy to design the best and most creative outdoor living space for you, whether you reside in Sleepy Hollow, Texas or beyond.