Outdoor Kitchen Builders for Your Conroe TX Home
It's official. Outdoor kitchens are the most sought-after kitchen trend of the year. Millions of Americans want to cook outside their home and enjoy the outdoors.
If you've considered an outdoor kitchen for your backyard space, you've come to the right place. We've compiled some unique outdoor kitchen ideas to spark your mind and show you what's possible.
Let's dive into our favorite trending ideas at the moment and hope your search for Conroe, TX, outdoor kitchen builders ends here.
3 Unique Outdoor Kitchen Ideas for Your Conroe, TX Outdoor Space
1. Barbecue Grill and Prep Station
Sure, a barbecue grill is a staple for any outdoor space. But when building a new kitchen for your backyard, experts say don't skimp on the grill.
In fact, you can take it a step further and go all out by designing your kitchen around the grill. First, you can choose a grill with side burners to maximize cooking space.
But you can also install an island with a prep station on one side and a sink on the other. This way, you can prepare all the food in one space. You can even include a refrigerator on the opposite side of the prep station for more convenience.
The best part is that a barbecue grill and prep station combo is possible for any size outdoor space. If you don't have a lot of room to work with, you may choose a classic or U-shaped island. To expand further, consider the L-shaped model.
The combo is highly customizable, and not just when it comes to the layout. For example, if you want a modern feel, you can choose marble or granite as your building materials. Or, you can go rustic with natural stone.
Whatever you desire for your grill and prep setup is possible!
2. Pizza Oven
Whether starting from scratch or updating your existing outdoor kitchen, make sure you budget for a pizza oven. According to a survey by NAHB Best American Living, nearly 80% of homeowners who already have an outdoor kitchen wish it included a pizza oven.
With plenty of excellent ideas to choose from, a pizza oven is available to fit your budget. With this addition to your outdoor kitchen, you'll feel like you've relocated to Italy!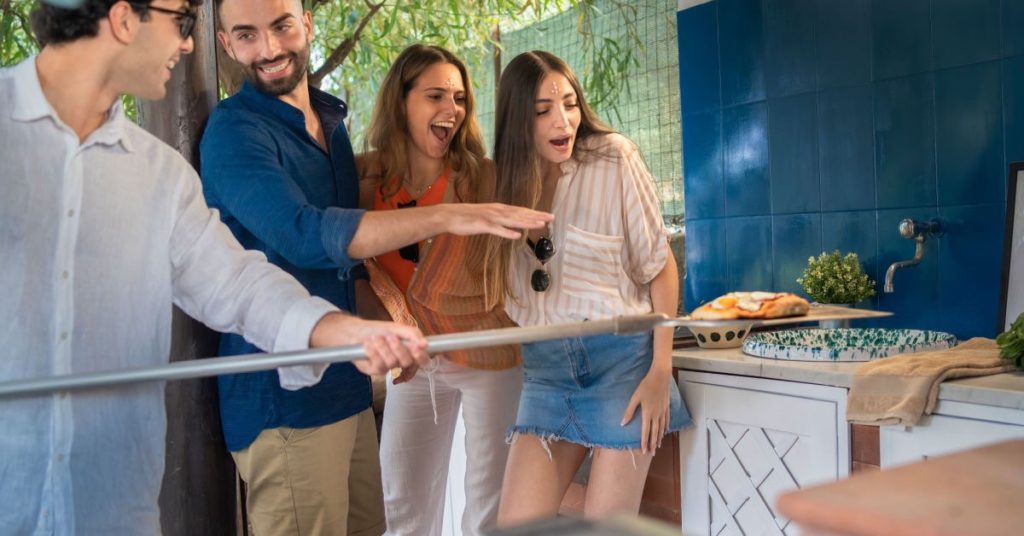 3. Complete Galley Kitchen Design
For those with plenty of space (and a big budget!), consider going full out with a galley kitchen.
A galley design is two linear islands that are parallel to each other. The space in the middle allows for an efficient workflow, but it's open, so you can also socialize with guests.
Next to your galley kitchen, you can build a dining and seating area with a fireplace for relaxation.
A galley kitchen is perfect if you love to entertain. You'll have ample space to prepare meals and host guests.
Outdoor Kitchen Ideas You Must Try
While these are just three outdoor kitchen ideas, there are thousands more! Whether you already have an idea in mind or need help creating your dream kitchen, we can help.
Still, searching for Conroe TX Outdoor Kitchen Builders? So stop searching for "outdoor kitchen builders near me" and book your free consultation with Pristine Outdoor Oasis now. Our outdoor kitchen design company is equipped with the latest technologies to give clients the most unique and high-quality outdoor living spaces.