Enriching Backyard Patio Design Ideas for Homeowners in Houston
Last year, Americans spent 3 additional hours outdoors every week. That's roughly 14 hours outside per week.
It's not a surprising development. Many people were looking for alternative activities due to travel restrictions.
This resulted in 70% of the homeowners surveyed adding to their exterior spaces. This included custom backyard patios. This made the time spent outdoors more comfortable and relaxing.
There are many amazing backyard patio designs in Houston. The key to getting exactly what you want is hiring an experienced Texas patio builder.
Read on to find out how you can choose one of the best backyard patio builders. They can help to breathe new life into your exterior space.
Ideas for Custom Backyard Patios
You may not know exactly what type of design you want for your backyard patio. But there are many ideas you can choose from. The look and feel you end up with will also depend on other factors.
This would include the backyard patio furniture you choose. There is also a lot of decor for patios available depending on your patio style. Your final choices will depend on your patio design budget.
Here are a few backyard patio features you may want to consider:
Multi-Level Patio
A multi-level patio can help break the monotony of the traditional one-level patio. This facilitates interesting breaks in the design.
It can also allow you to create separate areas. You may want to have one area for eating, and another for relaxing,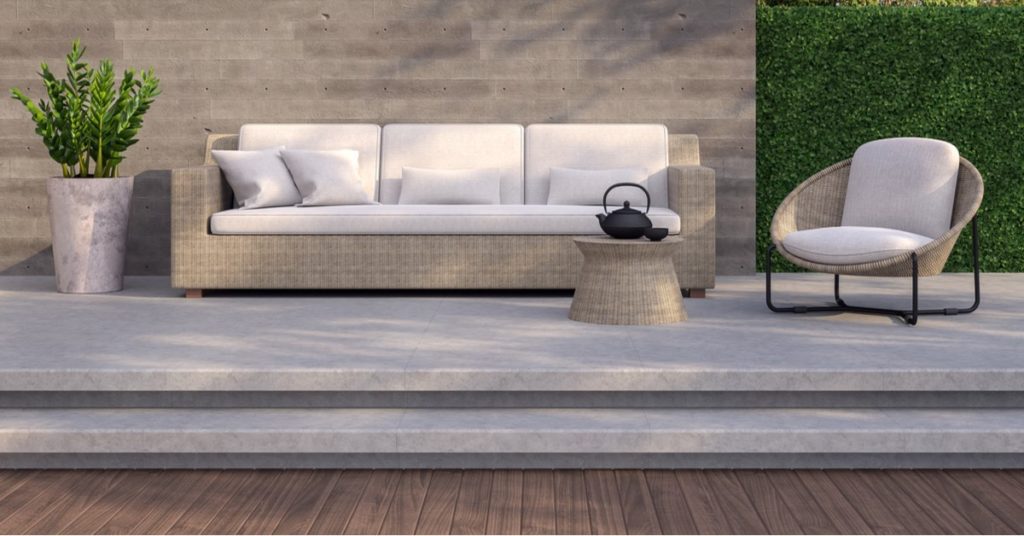 Patio with Water Features
To make a multi-level patio stand out, even more, you might want to consider adding a water feature. This is great if you don't have a backyard pool but want to incorporate water into the setting. It will not only beautify your patio, but the sound of the cascading water can be extremely soothing.
Patio with a Fire Feature
Fire features have become a hot trend over the past years, with homeowners installing them more than ever. Fire is an incredible ambiance and also for the adored s'mores. So whether you want an outdoor fireplace, fire pit, fire table or fire fountain, they are sure to impress and bring on a fun yet relaxing evening.
If you just want a simple centerpiece without the fire, adding candles will work nicely to light up the night just right.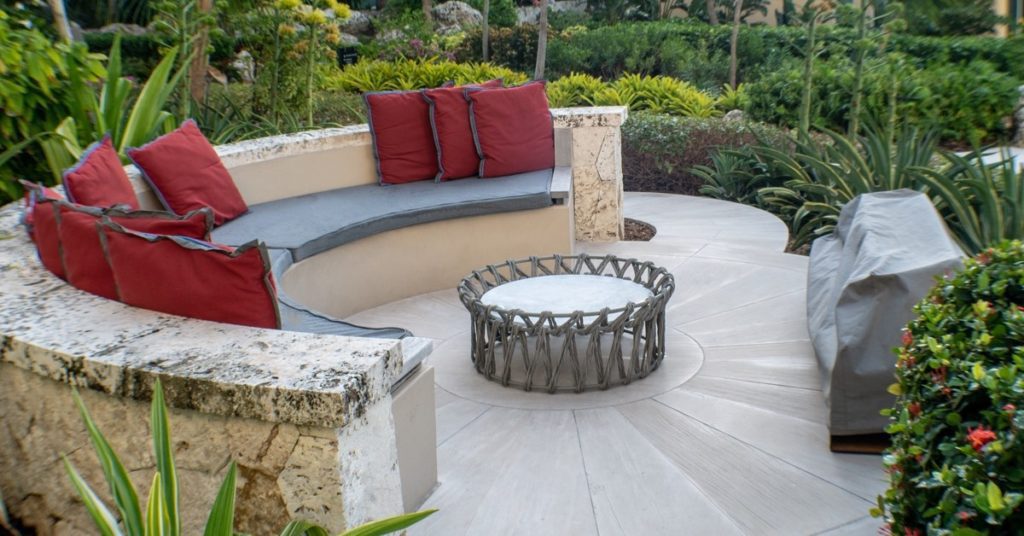 Modern Patio Design
If your home has a more contemporary style a modern patio design may be the right choice for you. This usually includes clean lines and minimalist landscaping. To define the space or add texture you can also incorporate ornamental grasses.
With any of these designs, you can choose if your backyard patio will be open or include an enclosure.
Benefits of Good Backyard Patio Designs in Houston
Backyard patios don't only beautify the exterior of your home. You can also improve your mental health by spending time outdoors. Here are a few other benefits they can provide for you and your family:
It provides a place to relax and unwind
It can increase the value of your home
It expands your home's footprint and living area
It's a great location to entertain family and friends
Depending on the design you choose, you can use your patio to bask in the sun. Or you can enjoy the outdoors while shaded.
Simply make the space your own. This can help you enjoy the process of building or expanding your backyard patio.
Finding Experienced Backyard Patio Builders
Want to ensure you get the patio of your dreams? Start by finding an experienced Texas patio builder. They should have:
An extensive portfolio
A license and insurance
The ability to communicate effectively
These qualities help to ensure they understand your needs. They should also have a good grasp of your design concept. This will help them guide you on the best way forward so you can get the finished product you want.
The Best Houston Texas Patio Builder for You
Custom backyard patios are in demand as people look for new ways to enjoy the outdoors. Backyard patios allow them to do this in the privacy and comfort of their own homes.
How do you get the best backyard patio designs Houston has to offer? You must find an experienced Texas patio builder. The good news is that you don't have to look far for a patio builder that has all the qualities above.
Pristine Backyard Oasis can create the patio of your dreams for your Houston Texas home. Our high-quality work and unique patio designs make us one of the best backyard patio builders in Houston. Contact us today for a FREE consultation and quote.